Hello! So, the other day my best buddy Claire come back to Penang from KL and obviously we decided to head out together. I'm not the kind of person to explore and try out the cafes in Penang that seem to be insanely popular. I usually go back to my favourite and one of the first few cafe hangout spots in Penang, China House. Anyway, we were searching for cafes to try out and found out about Safe Room. However, it was closed on a Monday and we didn't know (such fools of us) and ended up at two other cafes at the same street. Before I get into that, outfit details! Decided to go with something super casual but not too casual. Have not worn a shirt like this in quite awhile.
Top: Striped collared shirt, Zara
Shorts: Light coloured denim shorts, Cotton On
Bag: Mini sling bag, Mango
Shoes:
Chunky platform ankle boots,
shoeshaven89
Sunglasses: Vintage sunglasses, Baleno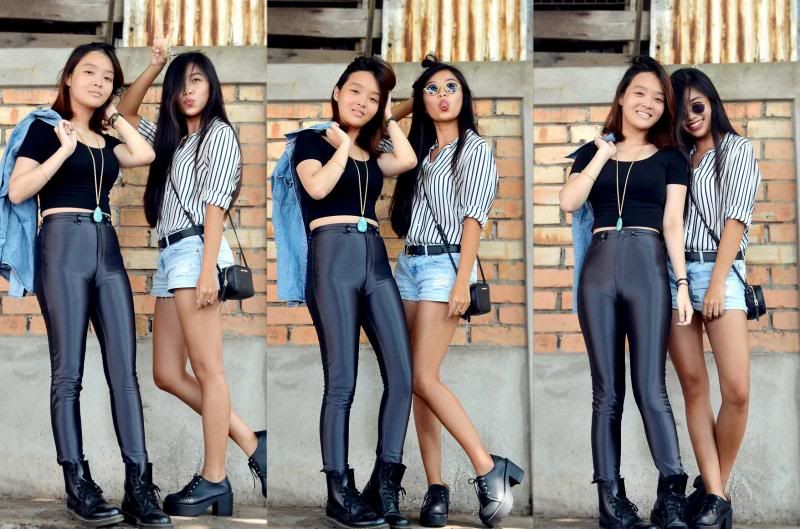 With the buddy Claire. Yeah, I'm that psycho friend.
We went for lunch after watching Step Up All In which I felt was predictable but still good. I'm still waiting for another Step Up movie where they bring back Channing and Jenna. They were so so so good together.
We ended up at Kantan Kafe for lunch. The food, oh my god. It was delicious. The service was good too. We all loved what we ordered and the price was reasonable. Really really good. Definitely going back there again. The ambiance of the cafe is meh, nothing to scream about but damn the food is good.
We decided to have dessert somewhere else and along the street was Moustache Houze. Service was okay I guess. We only ordered one slice of cake which was not worth my RM11.90. Very dry and honestly not very tasty. Yet to try other stuff there but the overall ambiance of the cafe was nice. When I walked in I felt like I just entered a hipster world or some shit lol.
Ending this post with a picture of this idiot and I. Won't be updating anytime soon as I've got things a bunch of things to finish. Till here, I hope you're all doing well and I hope everyday you feel blessed to be alive. Nx