So I finally got the time to play dress up this weekend even though it was just a short trip out to the mall. Here's a proper outfit post that I can finally blog and share with you guys. My god the last time I did a proper outfit post was in June. It's July already! Shows how much I've been neglecting my blog.
I think I've been a tad bit too in love with black colour clothing. All I ever wear these days are dull shades of grey from white to black.
Was really happy I finally got to wear this top. If I'm not mistaken it only cost me RM15. What a deal.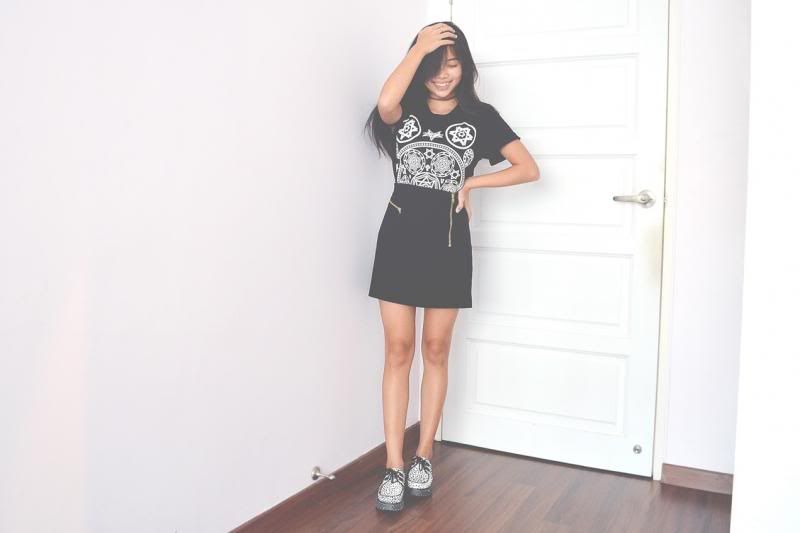 I've also been into a lot of Illuminati signs recently (or some may call it demonic/satanic) tho I really am not Satanic fyi. I just really like the Illuminati and satanic art works. If you follow me on Instagram you would notice my latest art work has a satanic sign on it and I recently made it into a cover. Can't wait to show it to you guys when its done!
Baleno x Topshop x Miss Whatever x Nose
Illuminati printed black tee paired with the gold zipper Topshop skirt, a pair of black and white creepers, a simpler choker, vintage pair of sunglasses and my favourite skull studded bag.
*
I'm still longing to do a lengthy rant post. Maybe the next round I will. Oh and if you have Lookbook do check my page out and fan/hype ok? Nx